I only have a few months left of University and simply typing that out is making me worry. Suddenly it feels like I'm going through UCAS all over again with applying to graduate schemes and jobs and obsessively checking my email for a reply. You realize that you might not be as prepared for the 'real world' as you thought…
What are the main options?
I'm a Master's student so have had this problem before, based on what friends have done there seems to be four general routes.
Getting a place on a graduate scheme: a lot of these have already closed for applications with a seemingly ridiculous amount closing in November. There are still a lot out there from HR to technology to strategy, so don't fear! Really have a think about what you want though, do you want rotations to provide a wider breadth of experience? Do you want a strong training scheme? What do

you

want out of it?

Going straight into a graduate level job: you don't get the same training and breadth as a graduate scheme but you do have a secure job. This is ideal if you know exactly what you want to do but can seem daunting as everywhere seems to expect a crazy amount of experience. Don't let this put you off though you probably have more experience than you give yourself credit for!

Postgraduate study:

This was my choice and comes in many different forms. You can pursue a taught Master's, a research Master's, a PhD, a vocational course such as a PGCE or perhaps a graduate entry second degree. You really need to think about why you want to do it and whether now is the right time.
Having a break: a very tempting option after the stress and strain of doing a degree, especially if you didn't take a gap year! This seems to be different for everyone with some people travelling, some people working in part-time roles or old summer jobs and some people moving home whilst they figure out what they want to do in life (for now at least). This can be a great chance to re-evaluate your values and gain more valuable experience.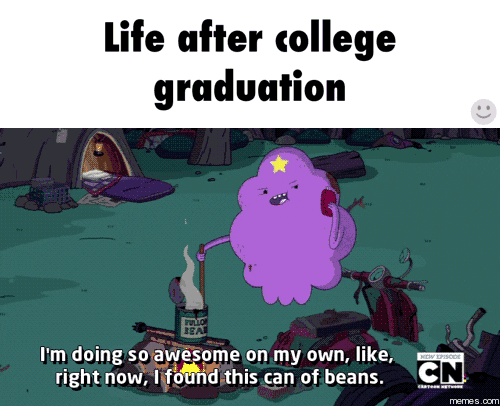 There is no right or wrong answer you really need to do what's best for you! But here is a bit of an action plan to help:
Visit the careers service.

 you can get solid careers advice, help with applications, CV reviews and so much more. A good place to start.

Think about what you want out of a job.

What are you motivated by? What support do you want? What do you want to do day to day? Does location matter?

Think about your welfare.

Do you need a break? In particular is the commitment to a 3 or 4 year long PhD right for you now?

Think about what skills and experiences you have

and how can they be demonstrated. Do you need to develop them more?

RELAX

.

You are young and have achieved a lot already, give yourself a break and don't put too much pressure on yourself.
Useful services at the University:
Useful websites/resources:
GOOD LUCK IN WHATEVER YOU DECIDE!